---
State Legislatures Are KEY
---
State legislatures not only create the laws that affect the everyday lives of their constituents, they also play a critical role in determining the districts for the U.S. House of Representatives and thus the fate of the entire country. November 2020 elections are critical as many state legislatures will be responsible for drawing new districts after the 2020 census. Local Majority provides research that is practical and accessible to support progressive campaigns for state legislature. Join us or support our efforts!
Save the date for our special screening of
Magnolia Pictures/Participant Media's
"Slay the Dragon."
Tuesday, April 21 at 7pm at Icon Theatre in Mountain View
Local Majority will be doing our 2nd annual fundraiser movie night with "the most important political film of the year and it may prove to be one of the key political films of the decade." (Variety)
Featured at the Tribeca Film Festival in 2019 and soon to be released in major markets, WE are lucky to get this special screening.
---
We are working hard to turn Pennsylvania, Michigan, and Arizona blue in November 2020.
---
This powerful film examines how gerrymandering influences elections and sways outcomes. Gerrymandering has become a hot-button political topic and symbol for everything broken about the American electoral process. But there are those on the front lines fighting to change the system.
Help support Local Majority's mission to provide critical research to Democratic state legislative candidates. To date, Local Majority has produced 140 issue papers for 145 candidates in Virginia, Michigan, Minnesota, and Florida during the 2017, 2018, and 2019 elections.
We're already gearing up for 2020 in Pennsylvania, Michigan, and Arizona to help rebuild the Blue Wall & flip state legislatures from Red to Blue.
Our States 2020
---
We are working on 2020 with states where we can make a big difference and help flip seats BLUE in state Houses and Senates.
---
---
---
---
We've got a few more T-shirts available. Get them now before we run out!
Instructions for ordering:
Click the Order button below  to go to Paypal.
Compute the total amount and input in the Donate section.
In the "Add a Note" section on the final payment page, indicate the sizes (men or women size) and type (short or long sleeve) shirt(s) you want and your email address. We will confirm your details via email before mailing or arranging for pickup.
Thanks!
Questions: [email protected]
Order
Short Sleeve
Women's short sleeve—S, M, L, XL
Men's Short Sleeve—M, L, XL
Shirts tend to run a bit big. Tri-blend Polyester, Cotton, Rayon.
$25 local pickup
$30 with shipping
Long Sleeve
Women's Long Sleeve: Only Small available
Men's Long Sleeve—M, L, XL available
Shirts tend to run a bit big. Tri-blend, Polyester, Cotton, Rayon.
$40 local pickup
$45 with shipping
Our Latest Reports
Read here for our latest in-depth research reports supporting progressive state district campaigns.
---
Virginia K-12 Education Funding

Teacher pay in Virginia has been among the lowest in the nation. In 2018, when adjusted for inflation, Virginia's teachers made on average 4.5 percent less than they did ten years prior. Read our new report on the efforts of Democrats to make progress  toward alleviating the teacher pay issue in Virginia. more ...
Gun Safety in Virginia

Every 10 hours, a person is killed with a gun in Virginia in cases that involve suicide, domestic violence, accidental shootings, or interpersonal disputes. Virginia's gun laws are among the weakest in the country. Read our report to understand what can be done to prevent gun violence. It starts with voting Democrat in 2019.  more …
Virginia Under Water

Virginia is experiencing the highest rate of sea-level rise on the East Coast and one of the highest rates in the U.S. overall. Flooding from sea-level rise is projected to cause billions of dollars in damage and displace hundreds of thousands of people. more …
It's All AboutSaving our Democracy
---
It's time to flip the country BLUE.
Help us take back state legislatures in November.
BLUE IN 2019 and 2020!
---
Donate
---
Our 2019 VIRGINIA RESULTS
---
The House of Delegates and State Senate Flipped BLUE.
New BLUE Trifecta in Virginia.
Thanks to everyone who supported Local Majority in Virginia - we couldn't have done our work without you.
Virginia needed 2 new seats in the state house & 2 in the state senate to take full control; we turned SIX state house seats from red to blue and TWO seats in the senate. We also held onto three seats in the House electing new Democrats by wide margins.
Ghazala Hashmi is the first Muslim elected to the Virginia state Senate - won by a wide margin.
Local Majority & OUR ROLLING BILLBOARD were on the ground canvassing in Virginia one week before the election, knocking on over 1500 doors and logging tons miles. It was well worth the effort.
Our State 2019

---
For the November 2019 elections, we supported the Virginia House of Delegates and State Senate. We also geared up for 2020 by supporting special elections in states where we can make a big difference and help flip seats blue in State Houses and Senates.
---
---
VIRGINIA
---
Democrats make up more than 50% of this heavily (and illegally) gerrymandered state. The Supreme Court heard arguments on redistricting the House of Delegates districts and ruled in favor of new districts drawn to eliminate racial discrimination.  The new districts are in play and should bring more fairness into the elections. The House only needs 2 seats to flip Blue and the Senate only 2 as well. All 100 seats in the House are up for election (for two-year terms) and all 40 in the Senate (for four-year terms).  It is not the time for complacency. This election will determine the US House districts after the 2020 census for the next decade. It's time for the legislature to reflect the will of the majority in Virginia. Support BLUE candidates and Vote BLUE! Do NOT stay home on November 5!
Multiply your Vote with Julia Louis-Dreyfus
---
---
Democrats: Don't just Vote, Volunteer!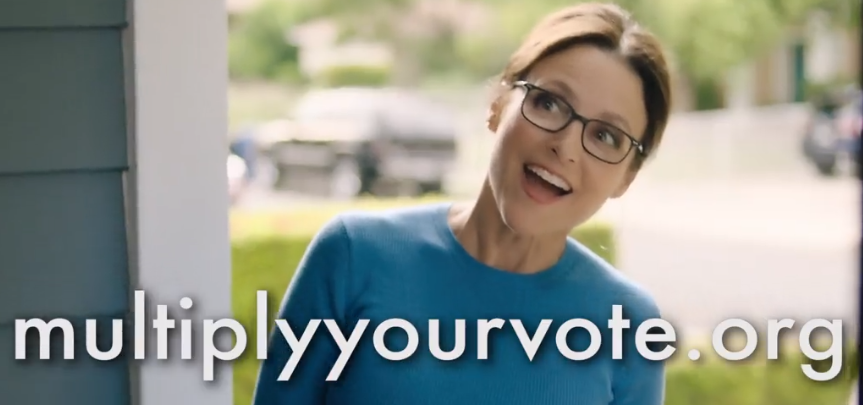 Join Julia Louis-Dreyfus and Local Majority and volunteer at
At MultiplyYourVote.org, you can find numerous volunteer activities such as talking to voters, texting, writing letters, or phone banking opportunities. Many allow you to help out right from your home .
It's VITAL that we help get Virginia Democrats elected this year and if you live in Virginia that you vote for Democrats on November 5, 2019.
Our Democracy is at stake as well as our Healthcare and Human Rights.
Campaigns: Use our Tools
---
Local Majority has put together a variety of resources for Democratic campaigns. These include:
Resources for finding volunteers
Video PSAs with Julia Louis-Dreyfus to help amplify your message
Issue ads
Research resources
Find information under the Candidates tab or click the button below.
---
---
2018 Election Results: Democratic Tsunami!
The Blue Wave hit the 2018 midterm elections!
US House of Representatives: 40 seats flipped and Democrats took control!
US Senate: 2 seats flipped (AZ, NV), lost 4 seats, but defended 22.
National popular vote margin: 8.9 million Democratic votes over Republicans.
Governors: Dems picked up 13 seats!
State Legislative Chambers: Dems flipped 6!  (CO Senate, CT Senate, ME Senate, MN House, NH Senate AND House, and NY Senate)
State Legislative races: Dems picked up at least 332 seats.
---
---
---
LOCAL MAJORITY 2018 RESULTS
---
Local Majority had very successful results supporting state legislative candidates in Florida, Michigan, and Minnesota with targeted legislative and opposition research and election activities.
---
Local Majority Results: Report
Democrats flipped 6 seats in the state House. Local Majority provided research and other assistance to all six.
One seat in the state Senate flipped. Assistance provided by Local Majority.
In a state that is nearly evenly divided between Democrats and Republicans, the partisan gerrymandering and voter suppression is extreme with the Republican trifecta. Democrats are not represented at the state legislative level. Key talking point for Florida for 2020.
Local Majority Results: Report
Michigan's voter turnout was the highest for midterm elections in nearly 50 years.
Broke Trifecta in heavily gerrymandered state
Gained 6 seats in State House
Gained 6 seats in state Senate, depriving Republicans of their supermajority.
Local Majority districts: 4 of the districts we worked with flipped and 2 others came within about 1% of ousting the Republican incumbent (shifting the MOV by ~-12%) in two Trump-won districts.
Local Majority Results:  Report
Highest voter turnout in the nation.
State House flipped Democratic (18 seats).
Governor stayed Democratic.
Divided State (MN Senate is  Republican controlled by 1 vote, having flipped 6 seats in 2016 to take control. All 67 seats are up for election in 2020).
Local Majority supported candidates: 12 of the candidates we assisted flipped seats.
Our 2017 VIRGINIA RESULTS
---
13 out of our 15 supported candidates for the VA House of Delegates won in November 2017!